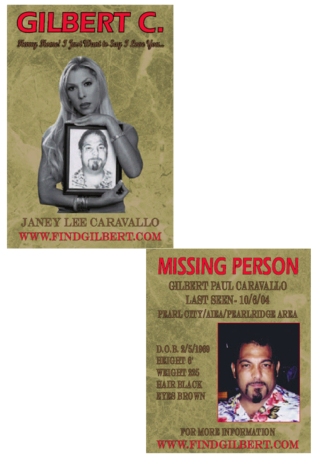 ABOUT THE BOOK
You speak to your loved one over breakfast, leave for work, and assume that in the evening you will see that person again. It is a familiar routine we have all taken for granted. But suppose one day, that person doesn't return home? That somehow, that person has disappeared - perhaps never to be seen again. How will you cope?
In the heartbreaking memoir Gilbert C. Hurry Home! I Just Want To Say I Love You…, Janey Lee Caravallo pours out the anguish of the terrible tragedy that befell their family: On one ordinary day, October 6, 2004, the author's elder brother, Gilbert Paul Caravallo, left his house in Hawaii, went somewhere – and never came back. A normal adult standing six feet tall, Gilbert, then 35, seemed to have simply vanished from the face of the earth. His disappearance, however, is surrounded by suspicious circumstances. One of the last people to see him didn't seem to have a coherent account of when and where he last saw Gilbert, and the police investigation didn't reveal anything.
Taking matters into her own hands, the author labored to contact any avenue that could help, from local media to government agencies, and even The White House. All her efforts, however, were futile – Gilbert still couldn't be found. This work describes in painful detail, how the uncertainty of what happened to Gilbert has deeply affected his sisters and mother.
Compounding the tragedy for Janey was the fact that her father was murdered when she was very young – and now another family tragedy has surfaced. Disturbed and stressed out, she has spiraled downward and eventually sought help from a therapist to deal with the loss. In the end, she has recovered somewhat, but to this very day, the author still hopes that Gilbert will come home one day. She shares her story so that those who find themselves in this awful situation will know there are others who understand their pain, and will be able to cope with own their grief.
Raw and painful, Gilbert C. Hurry Home! I Just Want To Say I Love You… is written straight from the heart and shows us the awful reality of what it is like to be in this emotional limbo. It also reminds us to never, ever take your loved ones for granted – you never know how long you will have them.
CLICK HERE TO VIEW OR PURCHASE THE BOOK | VIEW FULL DETAILS OF THE BOOK-GILBERTC.NET